Events & Workshops
Upcoming Event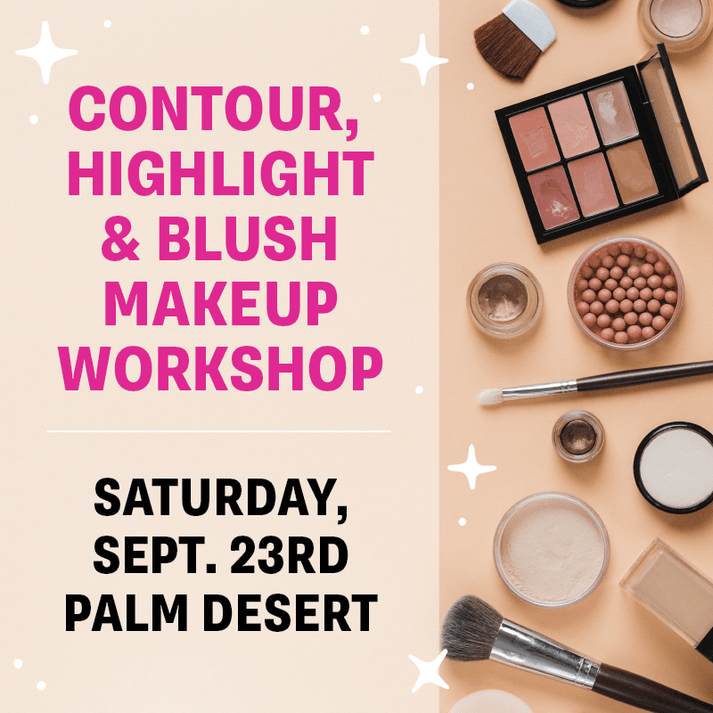 Tickets: https://beautiesocial.com/products/contour-highlight-blush-workshop
 Future Events
Need a glam night out? BeautieSocial holds fun beauty focused events in greater Palm Springs throughout the year.

HANDS-ON MAKEUP WORKSHOPS
Our hands-on workshops are taught by a celebrity makeup artist, and each event covers a different topic – smoky eyes, contour & highlighting, festival beauty and more. They're open to everyone on all levels – beginner through pro.
Our Contour & Highlighting workshop was so popular that we had to hold it several times! And if you missed it, we'll be having another one soon.
Each workshop is hands-on and you get to practice with professional makeup artists. Plus, everyone walks away with a seriously amazing goody bag filled with makeup and products from our sponsors.
They're really fun, so bring your friends for an awesome girls night out.
UPCOMING WORKSHOP TOPICS
Contour & Highlighting
All About Strobing
Day to Night: Work to Happy Hour
Makeup 101 for Beginners
Ultimate Eye: Cat, Doe, and Siren Eyes
Classic Pin-Up Makeup

BEAUTY SPEAKER SERIES
Our beauty speaker series events bring together some of the most talented women in the beauty game for an intimate chat with the audience.
Our panelists discuss everything from how they got their start, growing their social media, the best way to apply certain products and SO MUCH MORE! You'll learn a ton about the makeup industry at these events directly from the people who work it. Plus, all attendees walk away with a fab gift bag.
Listen, learn and mix & mingle with your favorite beauty stars!

BEAUTY GAME NIGHTS
How amazing is it to scream "BINGO!" when you finally fill your card? The excitement of having one spot left and hearing the caller yell your number makes your night!
Take a break from your hectic schedule and let's get together for bingo with a makeup twist, desserts, and a really good time.
Prizes for each bingo game are all makeup & beauty related, plus we'll have raffles throughout the night.

Sign up below to get email notifications for upcoming events and workshops: